Festival Tent Rentals In Carbondale
  White Party Tents

Party Tent Rentals:

1) All party tent pricing includes set-up and tear-down. Delivery is not included and is calculated by mileage to your event location upon checkout.

2) Party tents are typically delivered the day before your event and picked up the day after your event.

3) We will call you at least 48 hours before the delivery date to schedule a delivery window with you.

4) Party tent pricing does not include tables & chairs, if you require tables and chairs please add these on to your order.

5) Click on any party tent below for more information on that specific tent size along with seating layouts.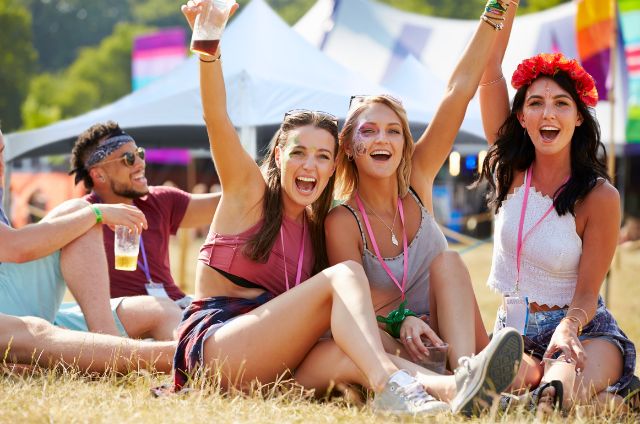 Create A Special Festival Atmosphere With A
Festival Tent Rental from CSE Services In Blgicity
Imagine a festival scene that's buzzing with energy. Friends are laughing, music is playing, and the atmosphere is electric. Now, picture this vibrant scene with the perfect backdrop—rows of festival tents, each one a hub of activity and relaxation. Welcome to festival tent rentals from CSE Services, where we turn this dream into your reality.

Festivals are all about community and celebration but can also be logistically challenging. That's where we come in. With our expertise in event planning, we offer festival tent rentals that are more than just a shelter, they're your festival home base. Whether you're organizing a music fest or a cultural fair, we have a range of tents to fit your needs and budget. And here's the cherry on top: our pricing includes FREE setup and tear down. We take care of the details so you can focus on the fun.
Festival Tents from Setup to Tear Down: Your Festival Success is Our Mission
When it comes to Carbondale festivals, the devil is in the details. Sure, you've got your lineup sorted and your tickets sold, but what about festival tent rentals? That's where CSE Services steps in to elevate your festival experience from good to unforgettable.

Firstly, let's talk variety. We offer an extensive range of festival tent rentals, from simple canopies for small gatherings to expansive high-peak tents for large crowds. Each tent is designed with both functionality and aesthetics in mind, ensuring that your festival not only runs smoothly but also looks the part.

But a tent is more than just a structure; it's a space that sets the tone for your Carbondale event. Want to create a chill-out zone with a bohemian vibe? We've got you covered. Looking to set up a VIP area that screams luxury? We have festival tent rentals for that too. Our tents for festivals are like a blank canvas, ready to be transformed to match the theme and spirit of your festival.

Now, let's talk convenience. We know that planning a festival is no small feat, which is why we aim to make the tent rental process as seamless as possible. Our online reservation system is user-friendly, and our customer service team is always on hand to assist with any queries you may have. Plus, with our FREE setup and tear-down service, you won't have to lift a finger when it comes to the tents.

And it doesn't stop there. We also offer a range of add-ons to enhance your festival tent rentalsetup further. Need tables and chairs? We have a variety of options to choose from. What about lighting to set the mood as the sun sets? Consider it done.

So, why choose CSE Services for your festival tent rentals in Carbondale? Because we're not just a rental service, we're your festival partner. From the moment you choose your tent to the final tear-down, we're committed to making your festival a resounding success. With CSE Services, your festival isn't just an event; it's an experience.
The Pinnacle of Festival Tent Comfort:
Our 20 x 20 White High Peak Frame Tent
When it comes to festival tent rentals in Carbondale, our 20 x 20 White High Peak Frame Tent is the epitome of style, comfort, and functionality. Imagine stepping into a space that not only provides shelter but also elevates the entire atmosphere of your festival. That's exactly what you get with this tent.

Designed with both aesthetics and practicality in mind, this high peak frame tent for festivals offers a completely open space underneath, free from any center poles that could obstruct the view or movement. This makes it the ideal choice for any festival setting, whether you're planning a music extravaganza, a food fair, or a cultural celebration in Carbondale.

One of the standout features of this festival tent is its versatility. It can be anchored using cement block anchors, making it perfect for locations where stakes can't be driven into the ground. This means you can set it up in parking lots, patios, or even next to another structure without any large gaps or spaces.
Book Online Now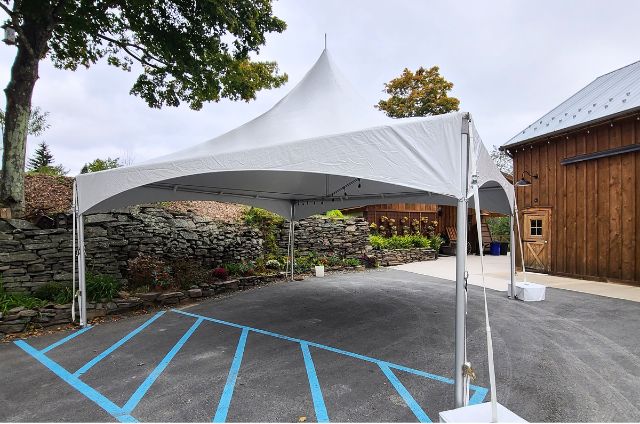 What Can You Expect From CSE Services?
Choosing CSE Services for your festival tent rentals in Carbondale is about more than just securing a place for your event; it's about creating an atmosphere where memories are made and experiences are shared. We understand the intricacies of festival planning and are committed to making your event as seamless and memorable as possible.

Quality is at the forefront of what we do. Our tent rentals are meticulously inspected and maintained to ensure they meet the highest safety and aesthetic standards. Whether you're hosting a small community gathering or a large-scale music festival, we have a variety of tents to fit your needs and budget.

Our festival tent rentals are versatile canvases that can be tailored to match the unique vibe and theme of your festival. From lighting and décor to furniture and layout, we offer a range of customization options that allow you to create the perfect setting for your event.

We know that planning a festival involves juggling a multitude of tasks. That's why we strive to make the festival tent rental process as straightforward and stress-free as possible. Our transparent pricing includes setup and tear-down, allowing you to focus on other aspects of your festival.

What truly sets us apart is our unwavering commitment to customer satisfaction. We're here to support you at every step, from the initial planning stages to the final tear-down. Our team is always just a phone call or email away, ready to assist with any last-minute changes or unforeseen challenges.

So, if you're looking to elevate your festival experience, look no further than CSE Services in Carbondale. We're not just a festival tent rental company, we're a partner in creating unforgettable events. Choose us for your next festival and discover the difference that quality, commitment, and excellent customer service can make.
Do You Deliver Festival Tent Rentals Near Me In Carbondale?
With CSE Services, the answer is YES! We are happy to deliver our rental items throughout Carbondale and the northeast PA area. We offer white tent rentals that are perfect for Graduation Parties, , , Festivals, and other events, striped tent rentals, and even tent accessories to provide lighting, heating and more for your events to make them truly unique. We also have dance floors & event flooring to give your guests stable ground during your event. Don't forget about tables and chairs for your guests. We have you covered there as well. Our concession machine rentals are a great way to provide carnival-style snacks. Looking for some entertainment at your event, be sure to check out our bounce houses, water slides and yard games to give kids both young and old some added fun. If you are looking some recommendations on what to rent together to make the perfect event, be sure to check out our party packages to see our most popular items bundled together to make your planning even easier.
Our Service Area
Proud to Serve The Following Areas:
If your party or event is beyond that radius, just let us know! We may be able to make special accommodations to suit your event.
NOTE: Fees may vary depending on how far you are outside our service area.
https://www.google.com/maps/embed?pb=!1m18!1m12!1m3!1d23879.013915917076!2d-75.52398758157354!3d41.57191222811772!2m3!1f0!2f0!3f0!3m2!1i1024!2i768!4f13.1!3m3!1m2!1s0x89c4cd9517ea8093%3A0x9cf7856cba8194f2!2sCarbondale%2C%20PA%2018407!5e0!3m2!1sen!2sus!4v1642176882436!5m2!1sen!2sus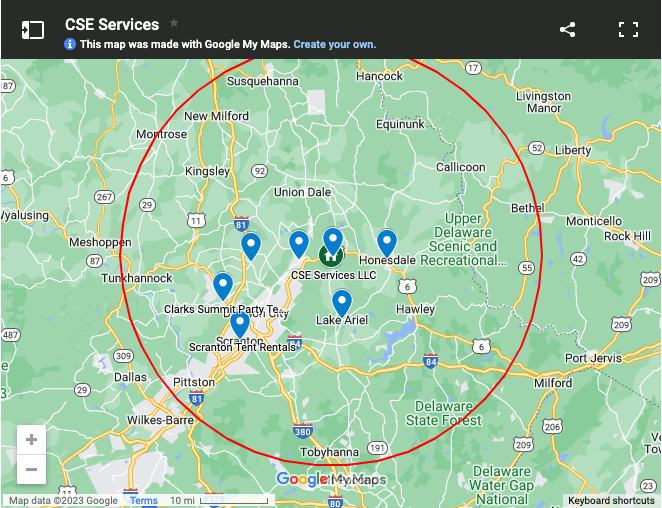 Customers Who Rent Festival Tents Also Shop For: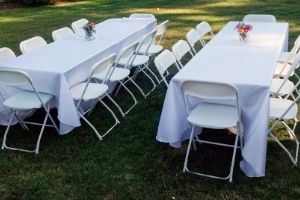 Tables and Chairs
Tables and chairs are the perfect addition to tent rentals. They are a great way to give your guests a place to sit and eat or just relax and get off their feet for a bit.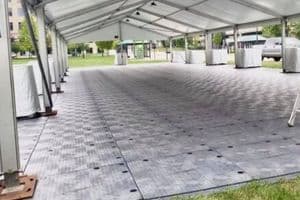 Dance Floors
Ready to dance the night away but hosting an event on a surface that isn't just quite right? Our dance floor rentals are the perfect solution to provide a stable surface to show off your moves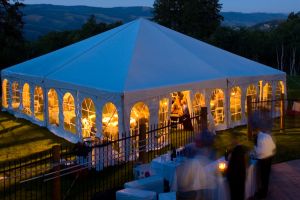 Party Tent Accessories
Our tent accessories include lighting, heaters, sidewalls, and more to help you set just the right mood for your next event. Check out all of the ways you can customize your tent rental.
Frequently Asked Questions About Renting Tents For Festivals
Does the price include set and delivery?
Yes, although additional fees may apply for areas farther out. Remember prices do not include sales tax.
Do you deliver to other cities?
Yes, but once again please be aware that due to rising gas prices and the possible need for an extra truck and labor that travel fees can be quite high. Please call our office for a current quote.
Does the rental time include your set up time?
No. We arrive early to set up so you get the entire rental time to play.
That depends on how many rentals we have that day. Generally we arrive 1-3 hours before the rental time begins. If we have a lot of rentals that day, we may need to set up as early as 4 hours in advance. If this is the case, we will call the Friday before to confirm that someone will be at the party location.
We've rented some really dirty jumps from other companies in the past. Are they always that dirty?
No. The jump should be clean when you get it. CSE Services LLC cleans and disinfects after every rental.