Bounce House and Water Slide Rentals in Carbondale
  Bounce Houses and Water Slides

Bounce Houses & Waterslides:

1) All bounce house & waterslide rental pricing includes set-up and tear-down. Delivery is not included and is calculated by mileage to your event location upon checkout.

2) Bounce houses & waterslides are delivered the morning of your event and picked up later that evening before or at dusk unless otherwise specified. We guarantee at least an eight hour rental for any of our inflatables.

3) We will call you at least 48 hours before the delivery date to schedule a delivery window with you.

4) A supervisor is required at all times for the inflatable while participants are using it. You will be required to sign a waiver stating you have read and understand the operation rules of the inflatable upon delivery. If you would like this to be provided in advance please notify us after placing an order and we can e-mail you a copy for you to review.
Bounce House with Slide Rentals For Every Party
If you are looking for more than a day full of bouncing in a bounce house, a bounce house with a slide is a great option. As opposed to adding a slide to your party, a bounce house with slide combines a bounce house and a slide together into one unit. They take up less space at your party and are also easier to keep an eye on your guests as they will be playing on one inflatable. Many people are just like you and just don't have the space at their party for two inflatables. That's where a bounce house with a slide works perfectly. Kids will have an awesome time bouncing and sliding all day in any of our fun bounce houses with slides.
Most of our bounce houses with slide rentals can also be used wet if you're looking for some extra excitement or a fun way to beat the heat. Each one has the same bouncing area of a bounce house, but these come with a slide as well for even more fun to keep the kids entertained longer. Either wet or dry, guests at your next party or event will love them.
Are you ready to watch your guests bounce and slide and smile and laugh all day? We thought so! At CSE Services, we have a selection of some of the most popular bounce houses with slide rentals in the area. Bounce house rentals have become a favorite attraction at parties, corporate events, school functions and religious festivals. The addition of a slide to the standard bounce house has made those events even more fun. The space saving design of our bounce and slide combinations take up less space at your event but are also safer too. Instead of having to watch children at two different events, your party guests will be in the same place which gives parents a better piece of mind.
Kids ages 3 and up love our bounce houses with slides because of the added versatility and bonus features. Often children get tired of just bouncing around for hours but when you add a slide to the event, it means even more ways to have fun. They are great for backyard birthday parties, school functions, church gatherings, family reunions, and much more. Your guests will enjoy hours of excitement and joy on our quality combo bounce and slide. Check out our selection of combos today and
book online now
!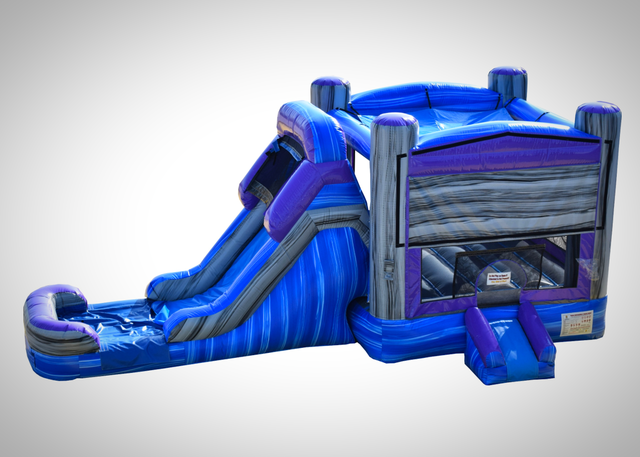 Marble Moon Bounce House with Slide
Get ready to bounce to the moon and slide back down to Earth with the Marble Moon Combination Bounce House With Slide. Everyone at your party will love to bounce and slide the day away with this inflatable.

Features


Combo Unit: A bounce house with slide built in!
Maximum capacity of 6 individuals.
Riders must not be over 180 lbs.
Riders must not be under 34" in height.
1080 lb. total weight limit.
BOOK NOW!
Rent a Bounce House For Your Next Party Or Event!
You can't go wrong with any of our licensed themed inflatable bounce house rentals. If you're looking to host a backyard party in
Carbondale
and need an amazing bounce house for your party, we've got you covered. Our bounce house rentals are commercial quality, which means that they are made of high quality, waterproof vinyl, and made to last for years to come. Unlike bounce houses that you can buy at a local retailer, our inflatable bounce houses include some of the highest safety standards. Here at CSE Services, we want to help make your party go as smoothly as possible, so we clean and sanitize our bounce houses after each use and guarantee on time delivery with professional setup. All of our bounce houses have a large surface area to jump and roam around freely. Our bouncy castle rentals range from $195.00 - $225.00. You can't go wrong with choosing CSE Services for all of your party needs in Carbondale.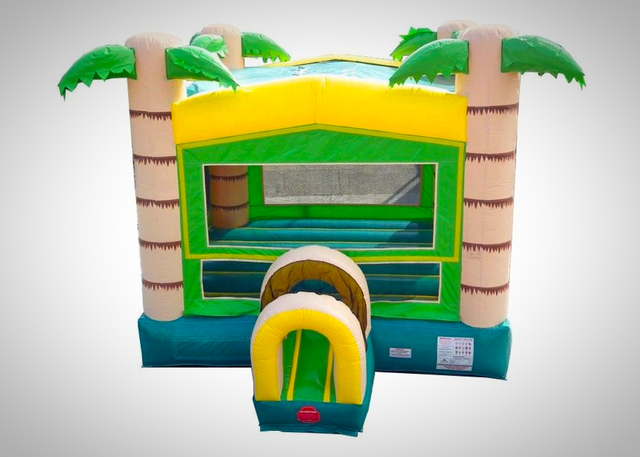 Tropical Bounce House
You can't go wrong with a traditional bounce house. Kids love them and parents do too. This inflatable bounce house is a wonderful addition to all children's parties and events and with its gender-neutral colors. This inflatable bounce house is a staple of any party where kids can jump, skip and bounce for hours. Multiple children can jump around in the Tropical Bounce House at the same time. This bounce house offers plenty of room to move around and have fun with their friends!

Featured


Maximum capacity of 6 individuals.
Riders must not be over 150 lbs.
Riders must not be under 34" in height or over 60" in height.
700 lb. total weight limit.
BOOK NOW!
Best Water Slide in Carbondale
Carbondale PA water slide rentals just got better thanks to CSE Services! Whether you are planning an event for kids, teens or adults, water slides from CSE Services are a major hit! Our cheap water slide rentals are the ultimate party entertainment in Carbondale PA. We take pride in offering all of our high-quality rentals at prices that you can afford. There is no need to blow your entire event budget on your entertainment. CSE Services makes getting cheap water slide rentals in Carbondale PA an easier process than you would ever imagine. Whether your event is in your backyard, at a school or church, or even a corporate party, you can count on CSE Services to be there with the water slide that you need to keep your guests entertained for hours.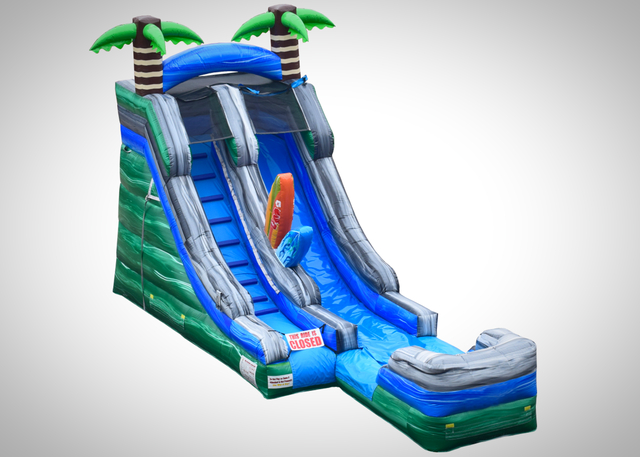 Tropical Paradise Water Slide
Turn any backyard into an island oasis with the all 16' Tropical Paradise water slide! This tropical theme water slide features a tall giant single lane inflatable water slide with a slip and slide lane and splash zone at the end. Once at the top of the awesome water slide, the steep angle will have your adrenaline pumping and wanting more!

Features


Cool off with this spectacular water slide!
16 foot total height.
Maximum capacity of 4 individuals total, only 1 individual may use the slide per turn.
Riders must not be over 180 lbs.
Riders must not be under 34" in height.
720 lb. total weight limit.
BOOK NOW!
Booking a Bounce House and Water Slide Can't Be Any Easier!

Our online ordering of our bounce house or slides and other rental items makes party planning easy and we have the items you'd normally have to reserve from multiple companies. Carbondale residents used to have to search for a vendor for a bounce house or slide, another for tables and chairs and another for concession machines like popcorn, cotton candy and snow cone machines. At CSE Services, many of us are parents as well and have had to go through that stress. That's why our inventory has it all. You can now make reservations with one company and we will take care of the delivery and you don't need to coordinate with multiple vendors.

Worried about safety? Again, many of us are parents as well. We get it. If we wouldn't let our own children use a bounce house or slide, we will not let your children. That goes for any of our other rental items too. We inspect, clean and sanitize all of our rental items after each rental to ensure you have safe items for your party and you can focus on having fun and not getting kids sick.

Browse our selection of bounce houses and slides and be sure to check out some of our other rental items for all our tables, chairs, tents, concession machines, dance floor and more.
Do We Deliver Bounce House and Water Slide Rentals To Carbondale?
Our Service Area
Proud to Serve The Following Areas:
If your party or event is beyond that radius, just let us know! We may be able to make special accommodations to suit your event.
NOTE: Fees may vary depending on how far you are outside our service area.
People who rented Bounce House and Water Slides in Carbondale Also Rented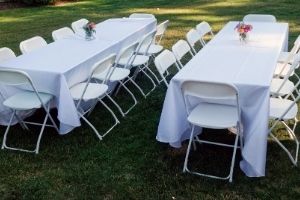 Tables & Chairs
Tables and chairs are the perfect addition to tent rentals. They are a great way to give your guests a place to sit and eat or just relax and get off their feet for a bit.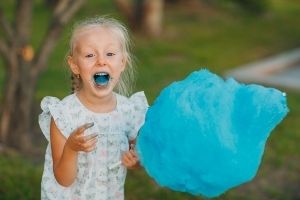 Party Snacks
A concession machine is a great addition to any backyard party. We have the best Cotton Candy Machines, Snow Cone Machines and Popcorn Machines.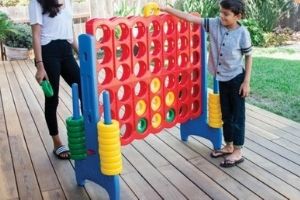 Backyard Games
Backyard game rentals offer a different form of entertainment. It's perfect for themed parties, corporate events, school gatherings or religious events.
Frequently Asked Questions