Keep your guests standing on solid ground and add a little elegance to your event!
  Dance Floors and Flooring

Dance Floors & Portable Flooring Rentals:

1) All pricing includes set-up and tear-down. Delivery is not included and is calculated by mileage to your event location upon checkout.

2) Flooring is typically delivered the day before your event and picked up the day after your event.

3) We will call you at least 48 hours before the delivery date to schedule a delivery window with you.
Why Rent a Dance Floor
with CSE Services in Carbondale?

This is a statement we hear quite often. Often, portable dance flooring is not only viewed as a costly item to rent but it's also viewed as a confusing subject to navigate, especially for a first time renter. However, there are many benefits to adding a dance floor to your outdoor event that you potentially have not considered. Not only does a portable dance floor provide a sturdy, flat and attractive area for your guests to safely dance but it's also very useful in directing your guests where to dance.

Dancing is paramount when it comes to creating a memorable experience and that's not only for the guests who enjoy to dance but also for the guests who enjoy watching others dance. Motivating your guests to dance in large numbers is far more complex than the average person gives it credit for. Luckily we've been providing disc jockey services for more than twenty years and during that time we've been able to closely study exactly what it is that compels most individuals to dance. If we've learned one thing during that time, it's just how important the atmosphere is when it comes to encouraging your guests to dance. So why is it so important to provide an exact place to dance? Well because a number of people will not join to dance until many others have already congregated. That simple factor is accelerated by providing an exact place for your guests to dance as opposed to having your guests dancing in various locations.

Makes sense right? So maybe now you're thinking you can simply rope off an area in front of the DJ or band. Not so fast, we've got more reasons! As mentioned before a dance floor provides a sturdy and flat place to dance. You may be thinking your yard is flat and that will suffice but before you do, consider this... What happens when 20 or 40 people dance in the same area for one or two hours? Mud. Mud happens, potentially so much mud it damages your yard. Even a seemingly dry and beautiful lawn can turn to mud after it's trampled on by dozens of feet and thousands of steps. After this happens it goes without saying that most guests will simply avoid the area all together or even worse they may begin to dance elsewhere and damage yet another portion of your lawn.

If you've read this far then perhaps you've got a paved area or stone driveway where guests can dance. Well don't worry, we still have a few other reasons on why you should consider renting a dance floor for your event! Did you know that dance floors are specifically engineered to be comfortable for one's feet? It's true. High-quality dance floors are made from wood, plastic or rubber materials that are soft on the feet especially when compared to materials such as concrete or pavement. Additionally, our outdoor portable dance floors even have a "springy" or "bouncy" feel to them aiding even further in the comfort of your guests' feet. Why is comfort so important? It's simple, more comfort leads to more dancing! More dancing leads to greater memories and greater memories means that not one guest is soon to forget your special event!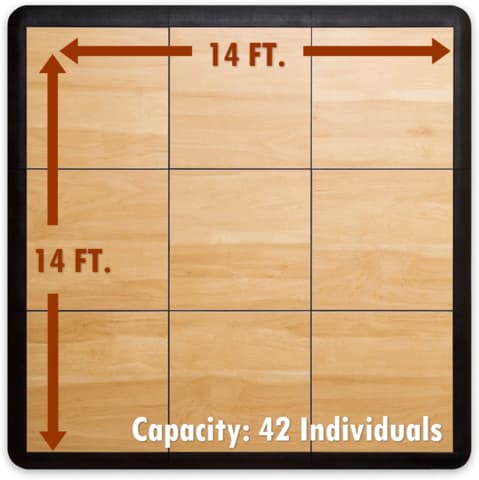 Featured Dance Floor Rental
14 x 14 Dance Floor w/Sub Floor (Light Maple)
No outdoor wedding reception or formal event is truly complete without a sturdy and firm place for your guests to show off thier ultimate dance moves! Our dance floor options are sure to add just the right touch of elegance to any outdoor function and all pricing includes professional installation by our crew!


Capacity of approximately 42 guests.
Finished in an attractive light maple finish.
Finished size is 14' x 14'
Overall size (with subfloor) is 15' x 15'
Price includes set-up and tear down.
Includes sub flooring for outdoor installation on a variety of surfaces.
Must be set up on flat ground free from any dips or mounds over a few inches.
Book Now!
CSE Services Offers Tent Rentals For Any Size Event
Regardless of what event you are planning, CSE Services in
Carbondale
has the event flooring you need to provide your guests a comfortable space. Whether it is a designated space for people to dance or flooring for your event location needed to protect your landscape, we have the right flooring options for you. We are also the premiere provider of
tent rentals
in the area that are perfect additions to dance floor rentals for backyard parties, weddings, graduation parties, corporate events, church festivals or any other time you need to have a space away from the weather.
Regardless of whether you are hosting a party for 20 people or 500, CSE Services has you covered for your dance floor rentals and portable event flooring. Nobody likes getting dressed up and then having to get their polished shoes dirty while they are dancing the night away. Our dance floor rentals help you create the perfect space to provide to your guests just for that while protecting their clothes as well as your landscape.
At CSE Services, we strive to make your party planning as easy as possible. Our online reservation system give you the ability to take care of the booking. Once reserved, you get an immediate confirmation of your reservation and we will follow up with you to arrange the delivery of your dance floor rentals. We then take care of the setup of your items and ensure proper anchoring to keep everyone safe. After your event, we will come back and take down your tent and other items, returning them to our warehouse where they are cleaned and sanitized in preparation for the next tent rental customer. By doing this, each of our customers are assured of a clean and safe tent for their party.
All of our dance floors and event flooring options are made of commercial-grade materials and designed for your event. They also include all of the latest safety features which is something you won't get from items available at local retail stores. We want your event to be successful and for you as the party planner to be the hero for putting together a successful event.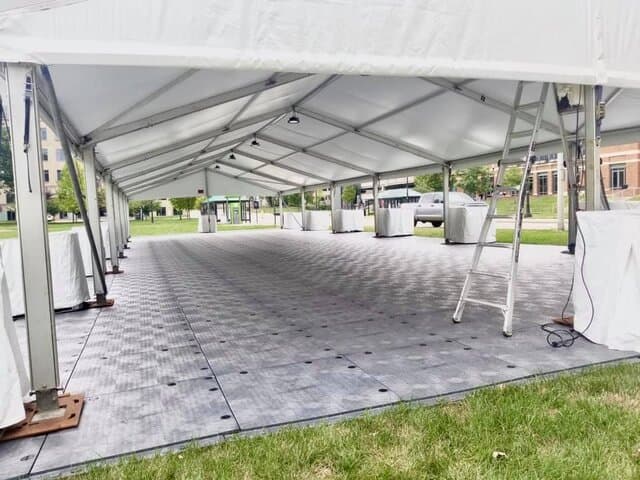 Portable Event Flooring

Provides an extremely durable and sturdy surface for guests.
Can be covered with carpet or portable dance flooring (additional cost)
Pricing includes installation.

Please Note: These are rented in 4' x 4' sections, once installed each section is 3.75 FT. by 3.75 FT. approximately 14 square feet per each section. (Example: 16 sections will provide a floor that is 15 Ft x 15 Ft or 225 square feet total) Book Now!
Do We Deliver Dance Floors To Carbondale?
With CSE Services, the answer is YES! We are happy to deliver our rental items throughout Carbondale and the northeast PA area. We offer white tent rentals that are perfect for Graduation Parties, , , Festivals, and other events, striped tent rentals, and even tent accessories to provide lighting, heating and more for your events to make them truly unique. We also have dance floors & event flooring to give your guests stable ground during your event. Don't forget about tables and chairs for your guests. We have you covered there as well. Our concession machine rentals are a great way to provide carnival-style snacks. Looking for some entertainment at your event, be sure to check out our bounce houses, water slides and yard games to give kids both young and old some added fun. If you are looking some recommendations on what to rent together to make the perfect event, be sure to check out our party packages to see our most popular items bundled together to make your planning even easier.
Our Service Area
Proud to Serve The Following Areas:
If your party or event is beyond that radius, just let us know! We may be able to make special accommodations to suit your event.
NOTE: Fees may vary depending on how far you are outside our service area.
People Who Rented Dance Floors in Carbondale Also Rented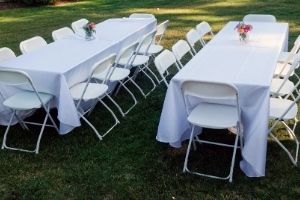 Tables & Chairs
Tables and chairs are the perfect addition to tent rentals. They are a great way to give your guests a place to sit and eat or just relax and get off their feet for a bit.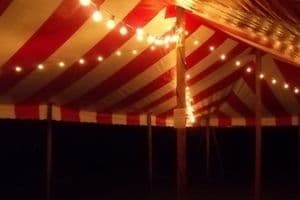 Party Tent Accessories
Our Tent Accessories include lighting, heaters, sidewalls and more to help you set just the right mood for your next event. Check out all of the ways you can customize your tent rental.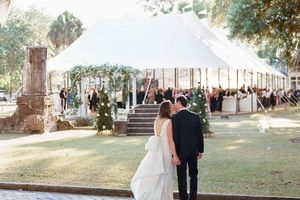 Tents
Beat the weather and give your guests the perfect place to be. We have a huge selection of tents for your wedding, graduation or corporate event. We also have tables and chairs for your event.
Frequently Asked Questions About Dance Floor Rentals