Tent Rentals for all your party needs
Perfect for all events in Waymart both formal and informal!
  White Party Tents

Party Tent Rentals:

1) All party tent pricing includes set-up and tear-down. Delivery is not included and is calculated by mileage to your event location upon checkout.

2) Party tents are typically delivered the day before your event and picked up the day after your event.

3) We will call you at least 48 hours before the delivery date to schedule a delivery window with you.

4) Party tent pricing does not include tables & chairs, if you require tables and chairs please add these on to your order.

5) Click on any party tent below for more information on that specific tent size along with seating layouts.
CSE Services Offers Tent Rentals For Any Size Event
Regardless of what event you are planning, CSE Services has the outdoors tents you need to provide your guests a comfortable space. We have tents that are perfect for backyard parties, weddings, graduation parties, corporate events, church festivals or any other time you need to have a space away from the weather.
Regardless of whether you are hosting a party in
Waymart
for 20 people or 500, CSE Services has you covered. Guests at any event like to have a place to gather out of the sun and our tent rentals help you create the perfect space to provide to your guests just for that. The last thing you want to have to worry about at your event is a rain shower and our tents allow you to keep the party going and your guests protected from the elements.
At CSE Services, we strive to make your party planning as easy as possible. Our online reservation system give you the ability to take care of the booking. Once reserved, you get an immediate confirmation of your reservation and we will follow up with you to arrange the delivery of your tents. We then take care of the setup of your items and ensure proper anchoring to keep everyone safe. After your event, we will come back and take down your tent and other items, returning them to our warehouse where they are cleaned and sanitized in preparation for the next tent rental customer. By doing this, each of our customers are assured of a clean and safe tent for their party.
All of our tents and other rental items are made of commercial-grade materials and designed for your event. They also include all of the latest safety features which is something you won't get from items available at local retail stores. We want your event to be successful and for you as the party planner to be the hero for putting together a successful event.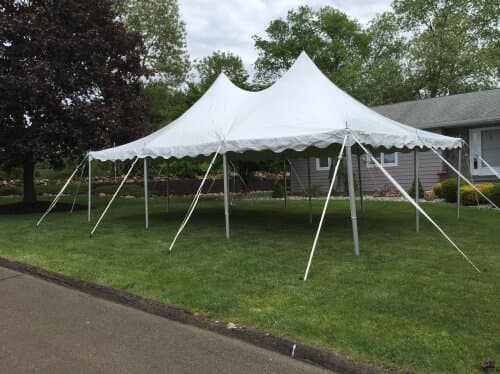 Featured Tent Rental in Waymart:
20 x 30 White High Peak Pole Tent
With its attractive curved peaked design this tent is the perfect choice for events where a touch of elegance is required. Pole tents are the economical choice for set up on grass, dirt, gravel or even pavement (drilling is required for pavement). Because of its heavy duty construction we highly recommend this specific tent for installations of over two days or for any installation requiring sidewalls. Great for events with 40+ people.
Book Now
Tent Rentals in Waymart and The Surrounding Communities
Pennsylvania weather can be unpredictable. That is a great reason to add a tent rental to your party or event. We offer tents in various sizes to fit everything from small parties with 20 guests to large corporate events where seating is needed for hundreds of people. We can also customize many of our tent rentals with
tent accessories
including sidewalls, heaters and we even offer lighting to help set the mood of your event.
Our high peak tents offer a classic look with unobstructed views which are great for creating an open and welcoming event space. It also keeps people from bumping into a pole in the middle of an event while they are dancing around on one of our
dance floors
or mingling with other guests.
CSE Services offers the best in wedding canopy rentals and have multiple sizes and styles. If you're not sure how big of a tent you'll need to fit the number of guests and venue space, we're happy to set up an appointment to view your space and advise on your best wedding tent rental options.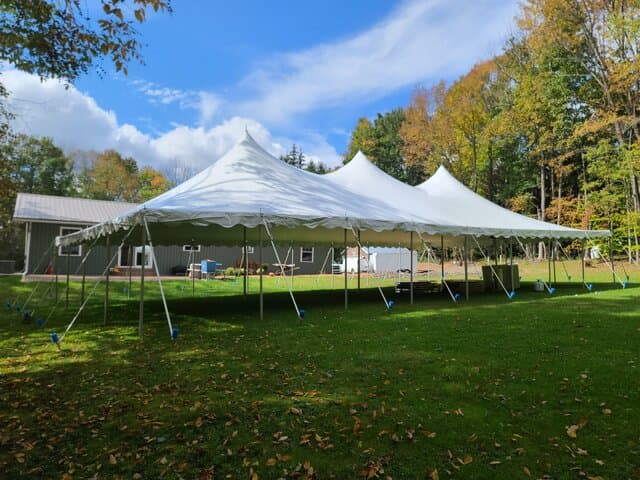 For Larger Events:
30 x 60 White High Peak Pole Tent
With its attractive curved peaked design this tent is the perfect choice for events in Waymart where a touch of elegance is required. We highly recommend this specific tent for installations of over two days or for any installation requiring sidewalls. Perfect for events with 125 guests or more.
Book Now
Our Service Area
Proud to Serve The Following Areas:
If your party or event is beyond that radius, just let us know! We may be able to make special accommodations to suit your event.
NOTE: Fees may vary depending on how far you are outside our service area.
Customers In Waymart Who Rented Tents Also Rented: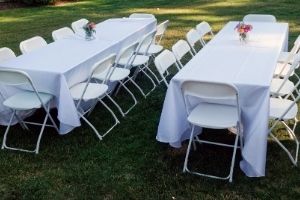 Tables and Chairs
Tables and chairs are the perfect addition to tent rentals. They are a great way to give your guests a place to sit and eat or just relax and get off their feet for a bit.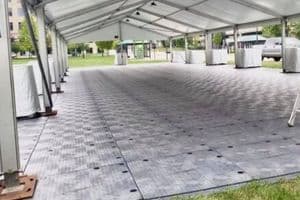 Dance Floors
Ready to dance the night away but hosting an event on a surface that isn't just quite right? Our Dance Floor rentals are the perfect solution to provide a stable surface to show off your moves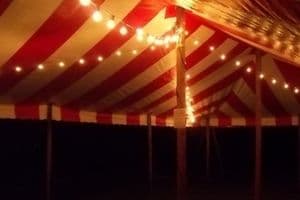 Party Tent Accessories
Our Tent Accessories include lighting, heaters, sidewalls and more to help you set just the right mood for your next event. Check out all of the ways you can customize your tent rental.
Frequently Asked Questions about Tent Rentals