Wedding Tent Rentals In Scranton
  White Party Tents

Party Tent Rentals:

1) All party tent pricing includes set-up and tear-down. Delivery is not included and is calculated by mileage to your event location upon checkout.

2) Party tents are typically delivered the day before your event and picked up the day after your event.

3) We will call you at least 48 hours before the delivery date to schedule a delivery window with you.

4) Party tent pricing does not include tables & chairs, if you require tables and chairs please add these on to your order.

5) Click on any party tent below for more information on that specific tent size along with seating layouts.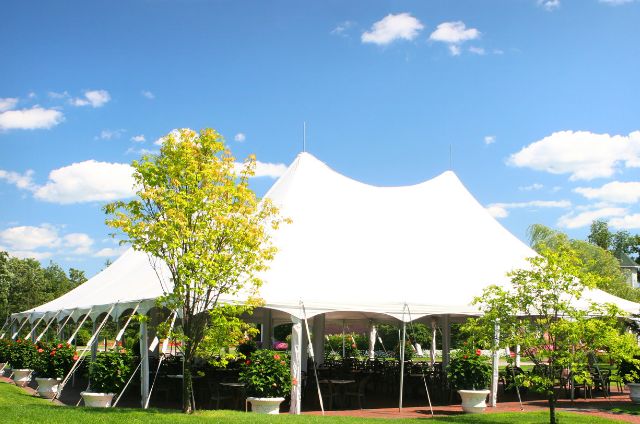 Creating Your Dream Wedding In Scranton with
Wedding Tent Rentals from CSE Services
Welcome to your dream wedding with CSE Services! We know that planning your special day can be both exciting and a bit overwhelming. That's why we're here to help you create the perfect setting with our wedding tent rentals.

Imagine a beautiful, spacious wedding tent, elegantly decorated and filled with your loved ones. It's the perfect backdrop for your vows, your first dance, and all the unforgettable moments that make your wedding day truly yours.

Our wedding tents are more than just a practical solution for outdoor weddings. They're a blank canvas for your creativity, a space where you can bring your wedding vision to life. Whether you're dreaming of a rustic country wedding, a chic modern affair, or anything in between, our wedding tent rentals are the perfect starting point.

At CSE Services, we offer a variety of wedding tents to suit every style and budget. From intimate Scranton gatherings to grand celebrations, we've got you covered. And with our commitment to quality service and affordable pricing, you can trust us to handle your wedding tent rental needs with care and professionalism.

So, let's start planning your dream wedding together. With CSE Services and our wedding tent rentals, the sky's the limit!
Book Your Wedding Tent TODAY!
Complete Your Scranton Event Venue With Wedding Tent Rentals and Accessories
At CSE Services, we understand that a wedding tent is just the beginning of your outdoor wedding setup. That's why we offer a range of additional rental items to complete your Scranton wedding venue. Of course you will worry about the comfort of your guests. Our table and chair rentals ensure everyone has a place to sit, dine, and enjoy the festivities. Picture beautifully set tables under the canopy of your wedding tent, creating a cozy and inviting atmosphere to celebrate your special day.

No wedding is complete without a dance floor. Our dance floor rentals are the perfect addition to your wedding tent rental, providing a dedicated space for those unforgettable dance-offs and the all-important first dance. But we don't stop there. CSE Services also offers party tent accessories and complete party packages to make your planning even easier. From lighting to decor, we've got everything you need to transform our wedding tents into your dream wedding venue.

Remember, at CSE Services, we're not just about providing wedding tent rentals. We're about helping you create unforgettable memories on your special day in Scranton. So, let's continue this journey together, and make your dream wedding a reality!
Setting the Mood with Tent Lighting Rental Options For Weddings In Scranton
Have you ever thought about how lighting can transform your wedding tent into a magical setting? At CSE Services, we believe that the right lighting can set the mood for your entire event. That's why we offer a variety of lighting options to accent our wedding tent rentals.

Imagine soft, warm lights casting a romantic glow over your guests as they dine and dance under the canopy of your wedding tent. Lighting is not just about setting the mood. It's also about functionality. Our lighting options ensure that your guests can move around safely and comfortably, even after the sun goes down. From the dance floor to the dining area, our tent lighting rentals will keep your event well-lit and inviting throughout the event.

And don't forget, CSE Services is here to make your wedding planning as easy as possible. Along with our wedding tents and lighting options, we offer a range of other rental items, including tables, chairs, dance floors, and more. We're here to help you create a wedding venue that's not just beautiful, but also practical and comfortable for you and your guests.

So, let's light up your night together. With CSE Services and our wedding tent rentals, your dream wedding is just a few clicks away!
Book Wedding Tent Accessories TODAY!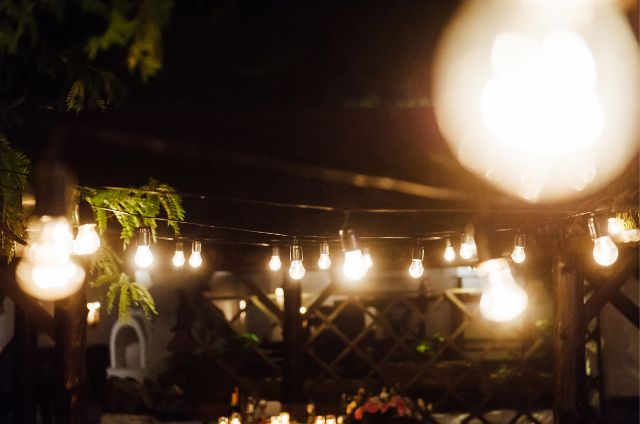 CSE Services: Your Partner in Planning the Perfect Outdoor Wedding In Scranton
CSE Services is thrilled to embark on this journey with you, crafting the perfect outdoor wedding that mirrors your unique love story. From the moment you choose your wedding tent rental to the final touches of lighting and decor, we're here to ensure everything goes smoothly.

We understand that planning a wedding can be stressful, which is why we strive to make the process as easy and hassle-free as possible. Our online reservation system allows you to book your Scranton wedding tent and other rental items quickly and easily. And if you have any questions or concerns along the way, our dedicated customer service team is always ready to assist.

But our commitment to you doesn't stop at providing quality wedding tents and accessories. We also offer delivery services to both small and large events. Our team will ensure that your wedding tent and other rental items are delivered on time and set up correctly. We handle the heavy lifting so you can focus on enjoying your special day.

And when the celebration is over, we're still here to help. We will take down your tent and other items after your Scranton event and return them to our warehouse, where they are cleaned and sanitized, ready for the next joyous occasion. With CSE Services, you can rest assured that every detail is taken care of.

So, why choose CSE Services for your wedding tent rentals? Because we're more than just a rental company. We're a team of professionals dedicated to making your dream wedding come true. From our variety of wedding tents and accessories to our top-notch customer service and delivery, we're committed to providing you with the best quality services at the lowest cost possible.

We're excited to be a part of your special day and can't wait to help you create unforgettable memories. Let's make your dream wedding a reality together!
Do You Deliver Wedding Tent Rentals Near Me In Scranton?
With CSE Services, the answer is YES! We are happy to deliver our rental items throughout Scranton and the northeast PA area. We offer white tent rentals that are perfect for Graduation Parties, Weddings, Festivals, and other special events, striped tent rentals, and even tent accessories to provide lighting, heating and more for your events to make them truly unique. We also have dance floors & event flooring to give your guests stable ground during your event. Don't forget about tables and chairs for your guests. We have you covered there as well. Our concession machine rentals are a great way to provide carnival-style snacks. Looking for some entertainment at your event, be sure to check out our bounce houses, water slides and yard games to give kids both young and old some added fun. If you are looking some recommendations on what to rent together to make the perfect event, be sure to check out our party packages to see our most popular items bundled together to make your planning even easier.
Our Service Area
Proud to Serve The Following Areas:
If your party or event is beyond that radius, just let us know! We may be able to make special accommodations to suit your event.
NOTE: Fees may vary depending on how far you are outside our service area.
https://www.google.com/maps/embed?pb=!1m18!1m12!1m3!1d95763.14533229655!2d-75.661934!3d41.4045295!2m3!1f0!2f0!3f0!3m2!1i1024!2i768!4f13.1!3m3!1m2!1s0x89c4d93a77484bbb%3A0xfff27920ab9bfae8!2sScranton%2C%20PA!5e0!3m2!1sen!2sus!4v1654081683908!5m2!1sen!2sus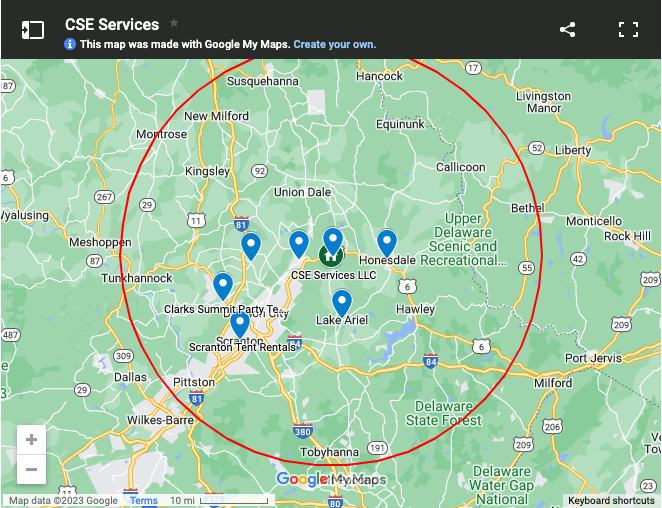 Customers Who Rent Wedding Tents Also Reserve: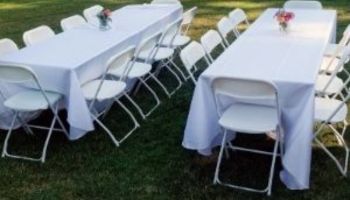 Tables and Chairs
Tables and chairs are the perfect addition to tent rentals. They are a great way to give your guests a place to sit and eat or just relax and get off their feet for a bit.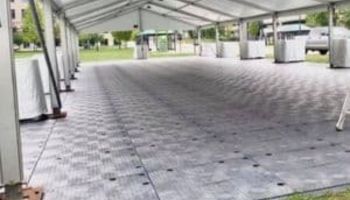 Dance Floors
Ready to dance the night away but hosting an event on a surface that isn't just quite right? Our dance floor rentals are the perfect solution to provide a stable surface to show off your moves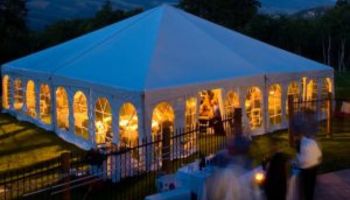 Party Tent Accessories
Our tent accessories include lighting, heaters, sidewalls, and more to help you set just the right mood for your next event. Check out all of the ways you can customize your tent rental.
Frequently Asked Questions About Renting Wedding Tents
Does the price include set and delivery?
Yes, although additional fees may apply for areas farther out. Remember prices do not include sales tax.
Do you deliver to other cities?
Yes, but once again please be aware that due to rising gas prices and the possible need for an extra truck and labor that travel fees can be quite high. Please call our office for a current quote.
Does the rental time include your set up time?
No. We arrive early to set up so you get the entire rental time to play.
That depends on how many rentals we have that day. Generally we arrive 1-3 hours before the rental time begins. If we have a lot of rentals that day, we may need to set up as early as 4 hours in advance. If this is the case, we will call the Friday before to confirm that someone will be at the party location.
We've rented some really dirty jumps from other companies in the past. Are they always that dirty?
No. The jump should be clean when you get it. CSE Services LLC cleans and disinfects after every rental.