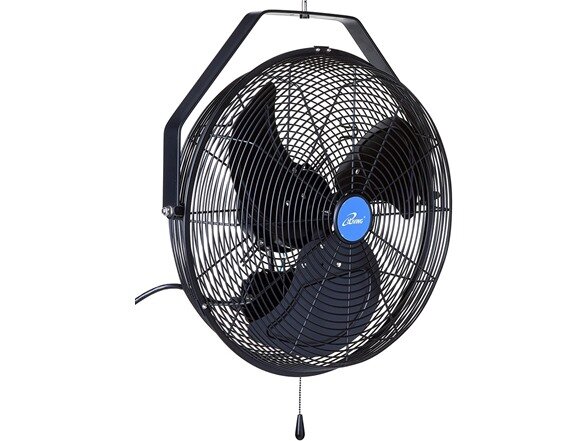 Tent Cooling Fan (18" Black Finish - Pole Mounted)
Actual Size: 22" W x 23" H x 8" D
Outlets: 1 - Standard Outlet & Electrical Cord to Item




Tent Cooling Fan (18" Black Finish - Pole Mounted)
Keep the area under your party tent comfortable with a steady breeze provided by these quiet operating pole mounted fans. A perfect choice for those hot summer days, these commercial grade outdoor fans will keep your guests comfortable and happy! Not only will these fans keep your guests comfortable but they will also repel unwanted insects from the areas where they are creating air movement.
Small but powerful, this fans output can move up to 6360 cubic feet of air per minute!

Three speed IPX4 rated water resistant motor is designed for safe outdoor use.

Engineered for quiet high speed operation. We recommend using these fans on the low speed setting for the quietest operation while still promoting a substancial cooling air flow throughout the tent.

Not only will these fans keep your guests comfortable but they also repel flying insects such as mosquitoes from the areas where they are causing steady air movement!

Pole mounted design allows us to install these fans on the sidepoles or center poles of your party tent.
Please Note: A party tent is required in order to rent this item. Unless otherwise agreed upon in advance, CSE Services will only install this item within our party tents. Rental fee includes the installation of this item in our party tent. The customer is responsible for providing and running all required electrical cords to this item in order to provide the necessary power needed.