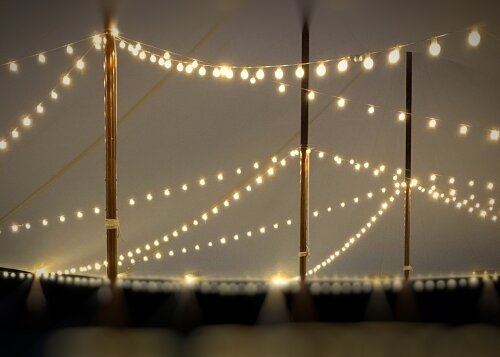 Lace Pattern Bistro Lighting for 40 x 80 -
Lace Pattern Bistro Lighting for 40 x 80
Our bistro lighting presented in an elegant lace pattern utilizing several strings of small low wattage bulbs that criss cross from the edge of the tent to the centerpoles.

Delivering elegant and stylish results, o

ur bistro lighting is designed and fabricated specifically for each one of our tents to achieve a perfect fit.

G40 warm glow LED bulbs present a classic look while requiring far less power.

Pricing includes installation, simply run an extension cord to the edge of the tent and plug.
Please Note: The photo for this item is meant to serve as a close representation of the style and layout of the lighting used in this application. The exact layout and appearance of our bistro lighting will vary from one tent size to another.